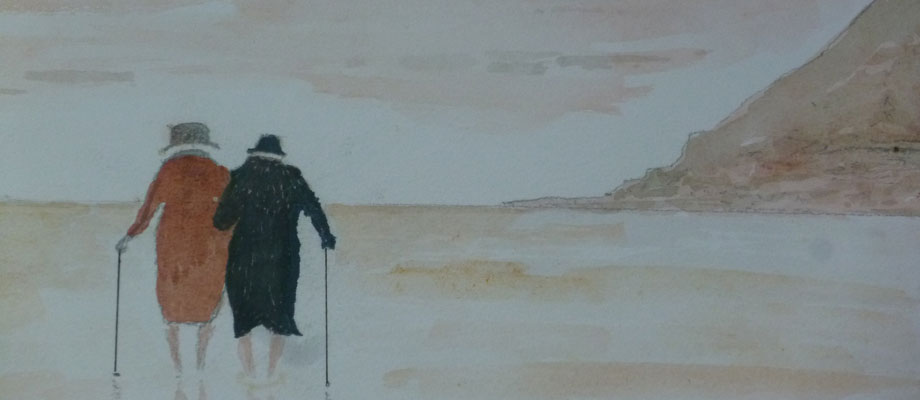 Where are they going? What are they looking at? Are some of the questions that you will be asking yourself when you view Chris Robson's latest exhibition "Looking Forward", featuring on the Member's Wall at Lowes Court Gallery Egremont. 
Member's Wall at Lowes Court Gallery
You will also be saying I recognise that scene, or that landscape! When you realise how familiar and locally inspired his work is.
Chris Robson has been painting his rather quirky watercolours for numbers of years and his distinctive style has been enjoyed by the many who have his artwork on their walls. His paintings usually ask questions, rather than provide answers and will inspire all who see them.
"I like to have figures in a painting seen from behind because that means that the paintings continue to have interest long after the conventional Lake District landscape has faded into the wallpaper," said Chris about his latest collection.
Over the last few months Chris has been experimenting with a range of balancing creations under the general heading of "Art in Balance".  These slightly strange objects spin, balance and change direction, again designed to intrigue, some of which will be on display as part of the exhibition.  Chris is also offering the chance to make some of his intriguing objects in his ½ term workshop.  Look out for details and times in the gallery, posters, on line or on Facebook or contact Lowes Court gallery on 01946 820693, or email lowescourt@btconnect.com.
Lowes Court is a charitable association of artists and artisans, promoting art and crafts in the community and county of Cumbria.  We are open 5 days a week 10am-5pm Tuesday to Friday and 10-4pm on Saturday. We are always looking for new artists and craft sellers to join our membership.  Please come in and talk to us if you are interested in showing or selling your hand-made work, or becoming involved in art education.