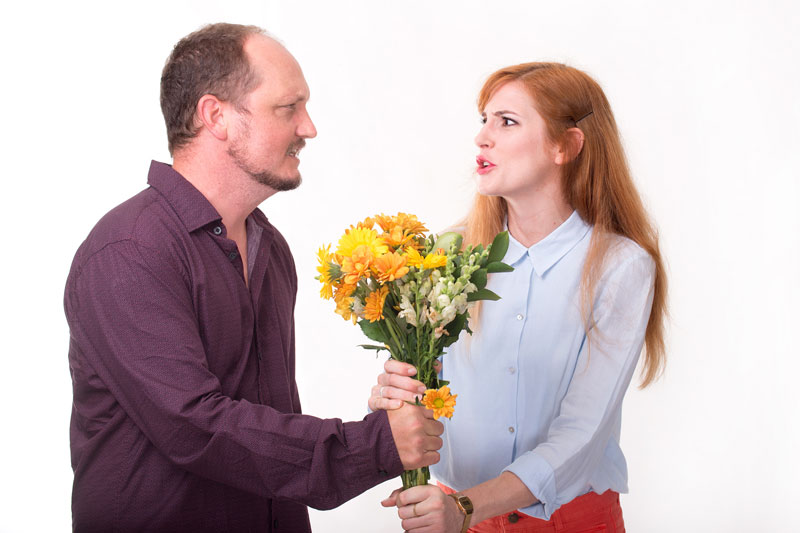 Durban: We have all done it – accidentally sent a text to the incorrect person! KickstArt Theatre presents a fresh, fabulously funny, contemporary and thought-provoking three hander, An Unromantic Comedy which comes to the Elizabeth Sneddon Theatre from 2 – 19 April.
An Unromantic Comedy – Elizabeth Sneddon Theatre: 2 – 19 April
Tony invites Lucy to dinner by text. But mistakenly he sends the text to his ex-girlfriend, Rachel. Tony opens his front door expecting Lucy, but finds Rachel there, dressed for a date… and the stage is set for a new level of awkward!
This new South African comedy-play about romantic relationships by Johannesburg playwright and actress, Rosalind Butler was a massive hit in Gauteng and Cape Town when it was first staged seven years ago. Now KickstArt presents a smart, lively, Durban adaption starring Jessica Sole as Rachel, Iain Robinson as Tony and Belinda Henwood as Lucy, directed by Steven Stead and designed by Greg King.
An Unromantic Comedy pairs, for the third time in a KickstArt production, the formidable duo of Robinson and Sole. They were most recently seen together in Noel Coward's Private Lives last October where Sole played Sibyl and Robinson, Victor. The versatile Henwood also made a brief appearance as the French Maid. Previously they starred together in Annie where Sole played Grace Farrell and Robinson, Daddy Warbucks.
Chatting about the upcoming performance with Sole, Robinson shared, "I'm looking forward to working alongside Jess again, very much. She's a brilliant blend of intelligence and talent, shining with professional polish. She's also just a helluva lot of fun to be around!"
This hilarious, yet meaningful South African production about relationships and mixed messages; should not be missed.
Durban's daring and bold theatre production company, KickstArt, has a reputation of staging fabulous, inventive and glorious productions. This year KickstArt's programme at the Elizabeth Sneddon Theatre kicks off with An Unromantic Comedy with 19 performances in the evenings, and matinees on weekends.
Tickets for all of KickstArt's shows are through Computicket. Ticket Prices: R180 throughout or R130 Discounted Rate (Pensioner and Student on presentation of valid ID).
For more info visit www.kickstarttheatre.co.za, follow on Instagram or like their Facebook page.
"Terrific writing… trim, acute script… makes you giggle and guffaw…. laugh, and lament. Belly achingly funny dialogue… Curiously real." Bruce Denill: The Citizen
"…will keep you smiling from beginning to end." Diane de Beer: The Star