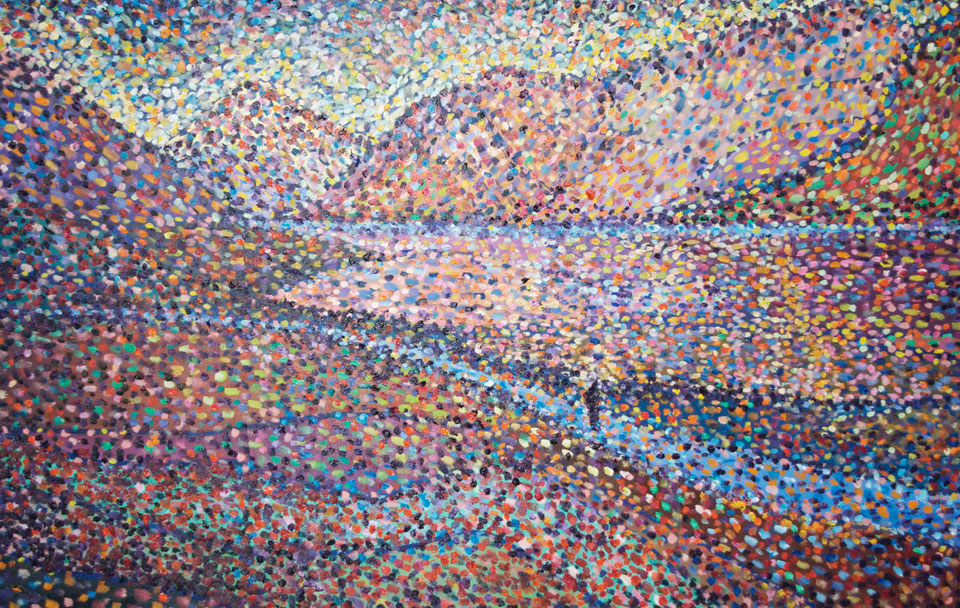 The latest exhibition of art at Lowes Court Gallery features Kevin Weaver's impressionist views of West Cumbria.
Kevin joined Lowes Court last year and his unique style of capturing the mood and emotion of always familiar views of the local area, has brought visitors back to the gallery time and again.  Kevin stated out with just a few pieces of work on our popular "New member of the Month" slot in November last year and has been chosen to display a full exhibition of work on our member's feature wall.  His exhibition Impressions of West Cumbria will be showing throughout March and entry is free.
A former teacher of English, Media, Drama and Art, and photojournalist, diagnosed with PTSD, Kevin's artistic practice is twofold: on the one hand he explores physical and internal conflicts, the politics of conflict and current debates, which rage around conflicts – wars, refugees, sacrifices ….  on the other hand his paintings of Cumbria, explore a relatively peaceful and cathartic environment, in the old tradition of landscape, but with a bright bold and energetic twist.  "Changing profession to full time artist in the wonderful surroundings of West Cumbria, has aided the healing process, but I am working incredibly hard," muses Kevin, who has only been working as a full time artist for 18 months.  Working since 2014 from his studio in Frizington, Kevin is never afraid to experiment. He is a prolific and proactive painter working with a vibrant palette and techniques exploring his own take on impressionism which celebrates colour as much as light. "We are really proud to be showcasing Kevin's work.  I think  he is one of the most exciting artists we have in West Cumbria at the moment and I am looking forward to seeing his career progress, proud of the notation that you saw his work at Lowes Court first", said Susan Denham-Smith, Manager at Lowes Court. His current exhibition concentrates on local views such as Cogra Moss, Whitehaven Harbour and Sellafield at Sunset and will run until the end of March.
Lowes Court is a charitable association of artists and artisans, promoting art and crafts in the community and county of Cumbria.  We are open 5 days a week 10am-5pm Tuesday to Friday and 4pm on Saturday.