ExhibArt launches national art fundraiser
Exhib'Art launches national art fundraiser for London bound athletics team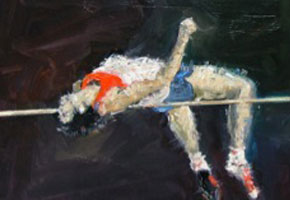 SAINT-LAURENT, QC – Exhib'Art, in partnership with Athletics Canada, is officially launching today an innovative fundraiser for the track and field team on the road to London 2012.  The announcement was made at the Salon Exib'Art in the presence of Christine St-Pierre, Minister of Culture, Communications and the Status of Women and Alan DeSousa, Mayor of Saint-Laurent.  Also in attendance were representatives from Athletics Canada, the Fédération Québécoise d'Athlétisme and athletes and coaches from the region.
The project marries two very different yet similar worlds, athletics and art.  Paris trained and Montreal based artist Raja Hammoud is honoured to participate in helping raise funds for the 2012 track and field program , "Athletes and artists share a common horizon: surpassing of oneself. To support their growth is a bet on a thriving future".
The objective of the fundraising program is to sell 2012 pieces of art by Canadian artists leading into the 2012 London Olympic & Paralympic Games.  The works of art will be displayed online and in select showings.   Montreal based artist Siloë sees this as a great chance to help gain recognition for Canadian artists and Canadian art, "This project seems very interesting because it allows a connection between athletics and visual arts.  Thus Canadian artists get people to know their products, and at the same time, help national athletes who will represent us in London in 2012."
Artists interested in taking part in this project should contact Edvige Persechino. Art aficionados and athletics fans can participate by visiting the virtual art gallery and purchasing a piece.  The virtual gallery is expected to go live shortly, stay tuned for an announcement.