On a tranquil Thursday evening at the beginning of June 2015, the Elements Exhibition by a group of Lanzarote artists took place at the Barstro Restaurant in Nazaret.
Elements Artists Young and Old gather
The gathering group of 16 artists, with their work on display, each brought their unique feel to this Elements Showcase. Showcasing various artists from the tender of age, Tatum Chick, who would on the evening sell two of her photos on display with a further order for a copy of Wolf, through to the more established artist such as Richard Ellis. The show provided diversity and a number of eye-catching works on view. The display runs till end-July 2015
Group shot of Lanzarote Artists at Elements Exhibition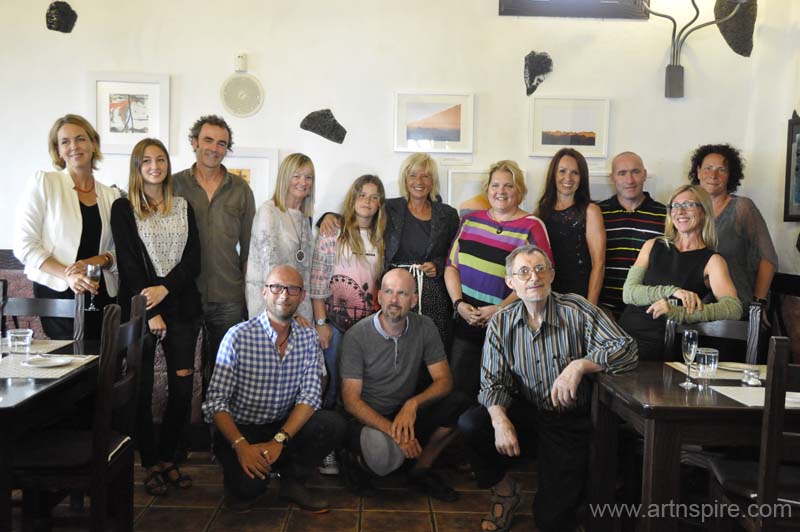 An Element is a component or constituent of a whole or one of the parts into which a whole may be resolved by analysis. An Element is one of the substances; usually earth, water, air, and fire, formerly regarded as constituting the material universe.
The artwork on display ranged from Textile Sculpture by Diane Lawton through the photography of number of rising artists to the work of Jody Tilbury-Fowler
Images for the Elements Exhibition
Light tapas snacks and drinks were provided by the Barstro Restaurant of Nazaret
Music by Emmiel
Music on the evening was provided by Mark Bennett and Emma Watkins of Emmiel. Their background music added to a captivating evening
This art report by Gavin Doyle
Image Credit: Piia Doyle of Doyle-PR