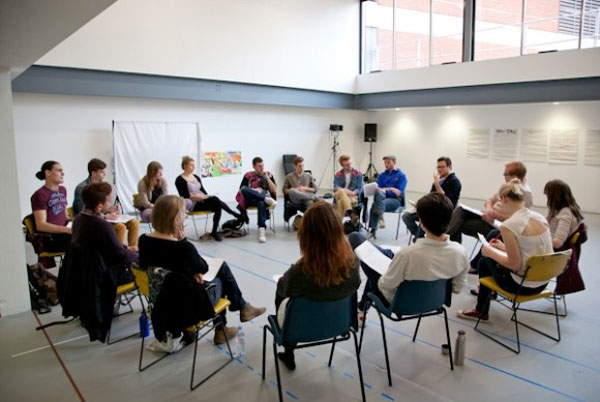 Renowned UK theatre directors trust rolls out full support programme for young directors at regional theatres across Scotland and England
Various venues: until 14 December 2013
"Northern Stage is committed to supporting this network. There is nothing else like it in the North East and we would like to see it grow and develop. I would like to see more available workshops within this region."
Kylie Lloyd, Director of Participation, Northern Stage
The James Menzies-Kitchin (JMK) Trust regional support programme was launched as a pilot in 2012 as the JMK Award celebrated its 15th anniversary. This year, the Trust has launched a regional assistant bursary funded by the Leverhulme Trust Arts Scholarships Award with £54,000 over three years, which will enable one member of each of the eight regional groups (some venues tbc) to become a Leverhulme Arts Scholar and to assist on a production at their venue. In August, the Trust also recruited a regional artistic co-ordinator, Lisa Spirling, who will devise and deliver the regional programme.
The bursary will allow workshop participants to learn through hands on experience and develop their skills as directors. The bursary recipient also helps to facilitate group networking events during the year. New artistic co-ordinator Lisa Spirling will be responsible for shaping the content of meetings and workshops for each group, delivering workshops, setting up and running the bursary process and working closely with each partner venue and JMK General Manager.
The regional programme will this year continue to work with the five initial partner venues, funded by the Foyle Foundation and the Andrew Lloyd Webber Foundation, building on the initial 2012 pilot scheme. So far, 134 young directors have taken part. This year, they plan to bolster participant venues to include West Yorkshire Playhouse and the Mercury Theatre, Colchester, in addition to Bristol Old Vic, Salisbury Playhouse, Traverse Theatre Edinburgh, Northern Stage at Newcastle Playhouse and Birmingham Repertory Theatre. At each venue, a group for local young directors offers free access to workshops provided by the JMK Trust alumni and the partner venue, development opportunities (viewings of performances, peer support and networking). As the scheme progresses all groups will be encouraged to communicate and share opportunities, experiences and ideas with each other through the JMK website.
Stephen Fewell, Chair of the JMK Trust, said: "Four years ago, when we first started working with emerging theatre directors in significant venues around the country, we were overwhelmed by the appetite for training and development opportunities; opportunities that already existed for writers and performers.
"Over time, this work has evolved into a lively network of regional groups, each developing their theatre making skills in workshops delivered by industry professionals.
"Now, with the support of our funders, it is thrilling to be able to extend this work by offering a unique practical opportunity for someone from each group, local to each of our host venues, to take this learning one stage further. Over the next three years, over twenty Leverhulme Arts Scholars will get to work as Assistant Directors on in-house productions at our partner venues, taking crucial first steps into the professional world. We are also extending our website, creating a social environment in which theatre directors can connect, collaborate and consult others.
"Alongside the annual JMK Award, and the superb work of established schemes like the RTYDS, this scheme will afford nationwide access to the profession at a grass roots level, offering opportunities equivalent to those available to London-based practitioners. We hope in part this will address recent economic impacts on the theatre industry, but fundamentally to inspire, support and sustain the diverse wealth of theatre directing talent we have encountered around the country.
"We hope to announce more venues and regional organisations we will be working with in the near future."
Case Studies from Northern Stage:
Matthew Tuckey is a sixth form student who has been involved with projects at Northern Stage for a number of years. Last year, Matthew set up his own theatre company with a group of friends and they have been delivering workshops in schools and at the theatre. Matthew decided he wanted to become a director, joined the network and has been to both training sessions. Meeting the other directors has given him a new confidence and the knowledge he has gained has been invaluable.  He had the opportunity to shadow Psyche Stott on her new production of Blue Remembered Hills. Initially this was for one day but he was learning so much and Psyche found him extremely useful so invited him to come in as much as he wanted. Without the support of the programme, he was struggling to find information about further study options and how to 'become a Director'. The workshops enabled him to increase his skills base but most importantly it provided him with the opportunity to meet others and to talk to them about their career paths. Matthew wrote a blog about his experience: http://blueremembered.co.uk/blog/
Laura Bridges is a professional director who has recently moved to the region. She attended the first workshop in October and then talked to the group at the last workshop about developing some peer to peer workshops/sessions where they could share some of their skills and start to get to know each other better. Laura has been keen to stress how beneficial the network has been for her in making contacts and in feeling that there is support for directors not connected to a venue.