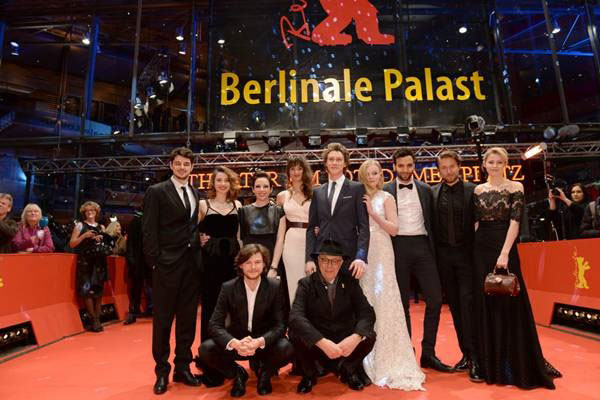 Once again EFP's annual EUROPEAN SHOOTING STARS initiative has proved itself a highlight at the Berlinale, with a lavish Awards Ceremony to honour the best and brightest young acting talent in Europe, at the prestigious Berlinale Palast.
The ceremony was held in the presence of industry figureheads and film fans alike, during the mid-point of the film festival's 10-day programme.
This year's 10 stars come from all over Europe:  Danica Curcic (Denmark), Maria Dragus (Germany), Miriam Karlkvist (Italy), Marwan Kenzari (The Netherlands), George MacKay (UK), Mateusz Kosciukiewicz (Poland), Cosmnia Stratan (Romania), Edda Magnason (Sweden), Jakob Oftebro (Norway) and Nikola Rakocevic (Serbia). All 10 actors bring with them an individuality and performance style which has earned them individual accolades at festivals around the world, as well as in their home countries.
The annual Berlin SHOOTING STARS showcase, which culminated in tonight's Awards Ceremony, allows these actors to forge important relationships with industry professionals as well as the world's media, on their journey to international success.
SHOOTING STAR of 2014 George MacKay from the United Kingdom commented: "This is an incredibly exciting time for us all and I'm thrilled and honoured to have been selected and to have spent this time at the Berlinale with like-minded and hugely talented performers from other parts of Europe. We're all overwhelmed by the support we have received from the industry and tonight's event marks the end of an amazing weekend of opportunities for us all".
Stellan Skarsgård and Bruno Ganz, who star in the competition film Kraftidioten – In Order of Disappearance together with Norwegian SHOOTING STAR Jakob Oftebro and Anders Baasmo Christiansen, member of the SHOOTING STAR jury, introduced this year's EUROPEAN SHOOTING STARS to the stage at the Berlinale Palast and presented each actor with their individual awards – donated by main partner TESIRO to honour their outstanding artistic achievements in feature film.
Following the ceremony, the ten young stars celebrated with VIPs from the film industry at a special after-party to commemorate their success.
EFP's annual talent platform SHOOTING STARS – Europe's Best Young Actors – is financially supported by the MEDIA Programme of the European Union, and the participating EFP members. Furthermore the project is supported by its cooperation partners.