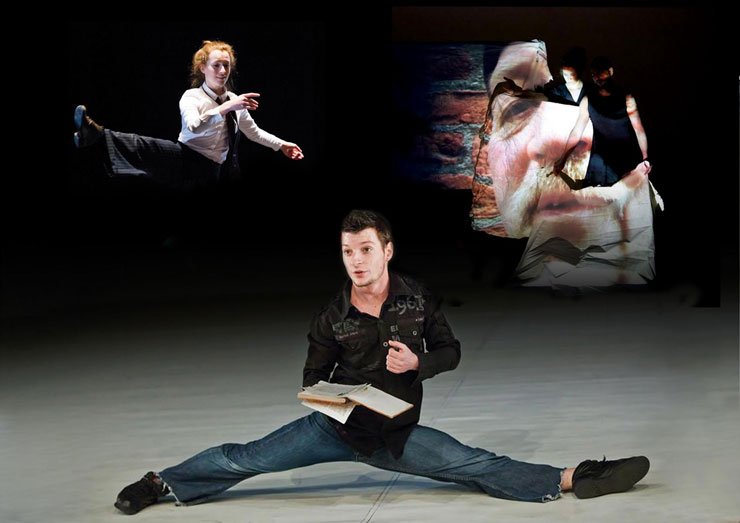 European theatre meets UK and Spanish audiences as three highlights of this year's Best of BE FESTIVAL 2014
BE FESTIVAL tour the UK and Madrid
Radioballet (Hungary) | Julia Schwarzbach (Austria) | Mokhallad Rasem (Belgium)
NATIONAL TOUR 8th October to 8th November 2014
PRESS NIGHT: Thursday 9th October 7.45pm at The Pit, Barbican Centre*
"a fantastic way to support emerging artists and showcase delicate work" (Best of BE FESTIVAL 2013)
««««  Daily Telegraph
"It's difficult to imagine a more enjoyable and rewarding night out" (Best of BE FESTIVAL 2013)
««««« WhatsOnStage.com
For the fourth year, the highlights of Birmingham's European festival will be touring the UK and Madrid, introducing three of Europe's most exciting emerging theatre companies to UK and Spanish audiences. The festival places a strong emphasis on collaboration, participation and exchange, and each of the pieces presented has been selected for their capacity to transcend cultural and linguistic boundaries. In this vein, all performances throughout the tour will conclude with post-show discussions, and an extended dinner interval with the performers will be provided at the Barbican, Birmingham Repertory Theatre, HOME in Manchester and the Traverse in Edinburgh.
From Hungary, Radioballet's From the Waltz to the Mambo won the award for Best Individual Performer (Milán Újvári) at BE FESTIVAL, a 1960's Hungarian ballroom dance manual becomes a tool to explore dogmas surrounding beauty and education. From Austria, Julia Schwarzbach's Loops and Breaks puts the audience in the spotlight as she instructs them with phrases and language specific to each venue, inspired by overheard conversations in each area. Finally, winner of the ACT Arriaga International Touring Prize Waiting by Mokhallad Rasem from Belgium/Iraq is a meditation through film, movement, art and sound on the human experience of waiting.
BE FESTIVAL Co-Director Miguel Oyarzun said: "These three shows were all huge hits with this year's BE FESTIVAL crowd in Birmingham, and were recognized by the jury. We are delighted that once again the Barbican will launch our tour, and that audiences across the UK and in Spain will have the chance to sample some of the best new theatre being made on the continent. The tour offers a chance to experience the unique flavour of BE in an entertaining evening which showcases daring and unforgettable international theatre in a passionate atmosphere of debate and exchange. We are especially pleased to have four new partners as part of this year's tour: Circomedia in Bristol, HOME in Manchester, the Atkinson in Southport and the Traverse Theatre in Edinburgh."
At a time when conflict and discrimination in Europe is so often in the news, BE FESTIVAL aims to build meaningful connections between artists and audiences from a diverse range of backgrounds, bringing people together in unique and imaginative ways. Acknowledging racial and cultural tensions, the festival hopes to recognize the shared values and experiences that unite people from across Europe, while providing space to debate the existing problems and the potential future of the continent.
This year's Best of BE FESTIVAL tour programme in full:
Radioballet (Hungary) | From the Waltz to the Mambo
*Winner* Best Individual Performer
A single performer uses a 1960's Hungarian ballroom dance manual as a tool for questioning today's dogmas surrounding beauty and education
A disarmingly personal and direct performance by Milán Újvári combining humour, a vintage text and awe-inspiring physical feats in a virtuoso dance solo.  Radioballet is a Hungarian dance company made up of artists Bea Eyued and Milán Újvári.
Julia Schwarzbach (Austria) | Loops and Breaks
The audience becomes the performers by responding to a series of shifting instructions
The stage expands to become a blur of watching and performing, interpretation, cooperation and play, where everyone can join the game of finding common ground together, and where every contribution is precious. Since studying at Salzburg Experimental Academy of Dance and Roehampton University, London, Julia Schwarzbach has worked with choreographers including Sasha Waltz, Rosalind Crisp, Ted Stoffer and Mia Lawrence. She is a member of tanz_house, a Salzburg-based platform for choreography.
Mokhallad Rasem (Belgium) | Waiting
*Winner* ACT Arriaga International Touring Prize
Film, performance and sound in a meditation on the human experience of waiting
A haunting meditation on the human experience of waiting; for a bus, for a kiss from a loved one, for a visa, for a future not yet begun. A visually powerful collage of film, performance and sound. Mokhallad Rasem worked at the National Theatre of Iraq before the war changed the course of his life. Now resident director at Toneelhuis in Antwerp, Belgium, he won the 2013 Young Director's award at the Saltzburger Festspiele for Romeo & Juliet.