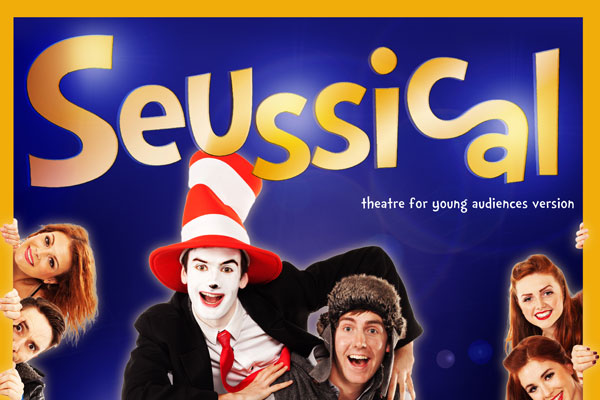 Seussical the Musical: Theatre for Young Audience Version
Including the Dr Seuss stories Green Eggs and Ham, Horton Hears a Who! and The Cat in the Hat, this family friendly musical by Tony and Drama Desk Award winning team Stephen Flaherty and Lynn Ahrens and co-conceived by Monty Python's Eric Idle returns for a second year at the Arts Theatre.
A cast of 12 tell the story of Horton the Elephant and the tiny world of Who, interwoven with other madcap Seuss characters who pop up to help and hinder Horton and the Who he heard.
Join The Cat in the Hat as he takes you on a journey into the fantastical, bombastical and songtastical world of Dr Seuss. Horton the Elephant discovers a small world floating by on a speck of dust. This small world is floating out of control through the universe and is the home of the Whos, including Jojo – a Who with "thinks" that defy description. Between them they must find a way to save Who from a world of naysayers and dangers.
Dr Seuss is the pen name of Theodor Seuss Geisel, an American writer, poet and cartoonist most famous for his wildly popular children's books. He was the creator of characters such as the Grinch, the Cat in the Hat, and the Lorax, and adaptations of his works include four feature films and four television series. His birthday, 2nd March, has been adopted as the annual date for National Read Across America Day.
Stephen Flaherty and Lynn Ahrens are a multi-award winning writing duo best known for Ragtime, which won the Tony Award for Best Score, Drama Desk and Outer Critics Circle Awards for Best Musical and Best Score, and was nominated for two Grammy Awards. They're also known for the long running hit Once On This Island, which won eight Tony Awards, and for the music and lyrics to the Twentieth Century Fox film Anastasia, for which they received two Academy Award and two Golden Globe nominations. Seussical debuted on Broadway in 2000, and was nominated for a Grammy Award.
Sell a Door are a Liverpool and Greenwich based theatre company formed in 2007 producing a large volume of mid-scale touring theatre. The majority of their work is aimed at teens and young adults with the ambition to attract young audiences and to excite them to the possibilities of theatre. Their recent productions include Dracula (2010), A Taste of Honey (2011), Lord of the Flies (2011 & 2012) and the debut UK tour of Spring Awakening (2011).