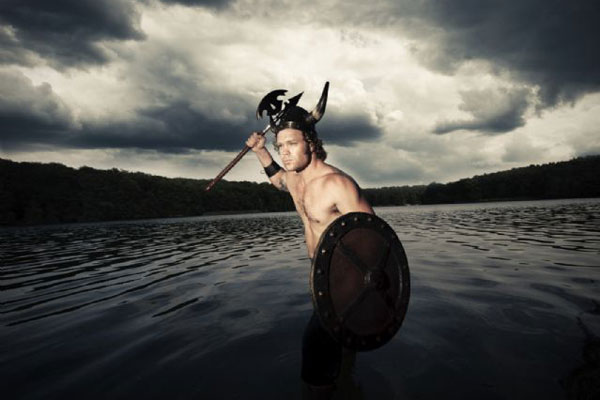 The National Museum of Ireland has planned a unique once-off music and storytelling event to mark the millennium of the battle of Clontarf 1014. We will be welcoming storytellers and musicians from Denmark and Ireland for this special commemoration, which will be held at the National Museum of Ireland – Archaeology on Kildare Street on Easter Saturday, 19th April at 3pm.
The Melodies And Myths Of The Vikings And Gaels
Storyteller Nuala Hayes, with harpists Anne-Marie O'Farrell and Helen Davies, will join wind player Poul Høxbro to journey one millennium into the time of Brian Boru, in a celebratory commemoration of the Battle of Clontarf in 1014. Using the ancient music of the harp associated in legend with Brian Boru, together with ethereal traditional Norse sounds of bone flutes and cow horns, this flagship performance will feature stories from the sagas from both Ireland and Scandinavia, recapturing the soundworld of Ireland's Viking era.
The narrative is inspired by the many versions of the battle and the era that were noted in the Irish annals and manuscripts and Viking Sagas. This specially written show will tell the story of some of the key people who were alive in 1014 at the time of the battle of Clontarf. Nuala Hayes explains she and her fellow participants,
'hope to create something very original in bringing together the Sagas with Music, old and new, of both Vikings and Gael, to reflect the complexities and drama of the story behind the Battle of Clontarf. The figure of Gormlaith, who was both mother and wife to many of the protagonists, and who outlived them all, comes to the fore in our version of the story.'
Gormlaith had been married to Brian Boru, but was also closely related to two of his main opponents at the battle – being the mother of Sitric, king of Dublin in 1014, and sister of Máel Mórda, king of Leinster. Prior to marrying Brian married she had already married twice, to a king of Dublin and the King of Tara. By the time of the battle itself in 1014 Gormlaith had divorced Brian and may even have been promised in marriage by Sitric to Sigurdr of Orkney, one of Sitric's Viking allies. Later texts and manuscripts portrayed her as a villain and an instigator of the clash.
This free event has been planned in association with the Embassy of Denmark in Ireland and with the support of the Department of Arts, Heritage and the Gaeltacht.
Event Details:
Located in the Ceramics Room, National Museum of Ireland – Archaeology, Kildare Street, Dublin 2. Suitable for all Age 10plus. Free Admission. Not wheelchair accessible. Places are limited. Booking is essential. To book, contact the Education Department by phone 01 648 6339 or by emaileducationarch@museum.ie
See the article: Commemoration of the Battle of Clontarf