Life and Work Of HOKUSAI
Giant 250th Anniversary Book Celebrates Life & Work Of HOKUSAI
Hokusai By Matthi Forrer
Hardback * 32 x 38 cm * £80
Published by Prestel
prestel.com
Publication: 6 December 2011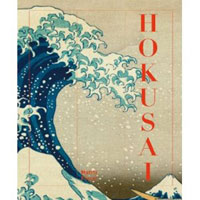 An authoritative and deluxe monograph published to mark the 250th anniversary of one of the world's most celebrated artists.
This sumptuous volume follows the life and artistic career of Hokusai (1760—1849), from his humble beginnings as a print-maker for amateur poets to his creation of instantly recognizable masterpieces such as The Great Wave, Thirty-Six Views of Mt. Fuji and Thunder Below the Top of the Mountain, many created when the artist was in his seventies.
Matthi Forrer, one of the world's leading authorities on Hokusai, vibrantly interweaves brilliant reproductions from every period of Hokusai's life with fascinating commentary. Forrer describes Hokusai's rise to success, detailing his journey as a pioneering illustrator of gothic novels, creating over a thousand illustrations and outselling work from all designers of the Utagawa tradition, through to his invention of Manga, one of Japan's most famous exports and now a worldwide artistic phenomenon. In addition to placing Hokusai among contemporaries from his native country, the book discusses the profound influence Hokusai has had on European artists, particularly the Impressionists.
Until now, scholars have hotly debated the meaning of certain passages of his autobiography. Here, Matthi Forrer offers new interpretations and sheds light on the man, the artist, his family and Japanese society. The origins of Hokusai's prints and paintings are also investigated and works painted by his daughters Oei and Otatsu are identified from later collections of the Hokusai atelier, a subject which has caused much recent controversy and the focus of a forthcoming film and novel.
Presented in a luxurious large-format edition, this book offers a comprehensive perspective combined with the latest scholarly findings. The book has Japanese binding with traditionally folded paper, presenting each work perfectly.
The Author
Matthi Forrer is a curator for Japanese Arts at the National Museum of Ethnology in Leiden, Germany. He is the author of numerous books on Hokusai and Japanese art, including Hokusai: Mountains and Water, Flowers and Birds and Hokusai: Prints and Drawings (both by Prestel)