VEGAS at Art Amsterdam
VEGAS Gallery, London – Presentation at Art Amsterdam: Jemima Brown, Keith Coventry, Bracha Ettinger, Karin Hanssen, Joris Ghekiere, Geraldine Gliubislavich, Alex Hudson, Angie Reed, Jemima Stehli, Jeanine Woollard.
VEGAS PEEP Show project space, Amsterdam – (Keizersgracht nr 630) Drink Reception: Thursday 27 May 17:30 – 19:30
Pascal Rousson 28 may-18 July 2010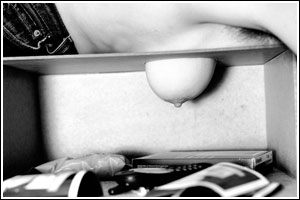 VEGAS is pleased to announce a range of interesting events taking place at and during Art Amsterdam. VEGAS Gallery, London, showing at stand 095 will present works by both established international artists and strong emerging talent at Art Amsterdam.
Although still a young gallery, VEGAS has grown rapidly and has gained an increasing reputation for a strong programme, to the point that it is already working with a number of internationally established artists. The stand presentation will include works by the distinguished British artists Keith Coventry and Jemima Stehli. Both artists emerged onto the international art scene during the first wave of 'Brit Art' during the 1990's.
Coventry, who is represented by Haunch of Venison,London, is one of most highly regarded British artists of his generation, known primarily for his works that manipulate the legacy of Modernism to engage with British urban social conditions. Included in the seminal 'Sensation' show at the Royal Academy in 1997, recent solo institutional exhibitions include Camden Arts Centre, London and the Museum of Contemporary Art, San Diego. His work is held in important public collections internationally including Tate, London; The Museum of Modern Art, New York; Museum of Contemporary Art, San Diego and the Walker Art Center, Minneapolis.
[phpbay]Art photography, 1[/phpbay]
Jemima Stehli, previously represented by Lisson Gallery, London, gained acclaim for her provocative (post)feminist oeuvre in which photography and documented performance dominate. Her solo institutional credits include Palais Thurm and Taxis, Bregenz; Kettle's Yard, Cambridge, Contemporary Art Gallery, Vancouver and Chisenhale Gallery, London.
Bracha L. Ettinger, the distinguished French/Israeli artist represented by Vegas, known for her paintings and installation-like works on paper that initiated the now orthodox approaches to interrogating museal display and the archive, first rose to international prominence when she was living and working in Paris in the 1990's. Ettinger's work is included in some of the most important collections in the world, such as Fonds National d'Art Contemporain, Paris; Bibliothèque Nationale, Paris; Israel Museum, Jerusalem and Museum of Modern Art, Oxford, to name but a few. Her substantial solo institutional credits include The Drawing Center, NewYork; BOZAR, Brussels; The Israel Museum, Jerusalem; The Museum Of Modern Art, Oxford, Le Nouveau Musée, Villeurbanne and Centre Georges Pompidou, Paris. She has a solo exhibition opening at the Tàpies Fondation, Barcelona in late Spring 2010.
VEGAS' reputation as a gallery that spots and supports strong emerging painting talent will be evident in the presentation in the form of two young painters represented by the gallery. The French/Swiss painter Geraldine Gliubislavich won a Jerwood Prize for Painting and also had a critically acclaimed solo show at the gallery space of De Nederlandsche Bank, Amsterdam in 2009. Similarly, the young British painter Alex Hudson was included in the 2008 Bloomberg New Contemporaries and was selected for the Whitechapel Gallery's prestigious studio programme in 2009. His first solo exhibition at Vegas in London runs contemporaneous to Art Amsterdam.
The younger painting talent is augmented by works by two established Belgian artists, Karin Hanssen and Joris Ghekiere. Ghekiere's credits include De Brakke Grond, Amsterdam; Museum of Fine Arts, Brussels; Breda Museum, Breda and MuHKA, Antwerp. In addition to her current solo exhibition at Kunstverein Ahlen, curated by Philippe Van Cauteren, Hanssen's institutional credits include 800 Show Art Space, Shanghai; Chelsea Art Museum, NYC; Museum Wuyts -Van Campen, Lier, Museum Dr. Guislain and S.M.A.K., Ghent. Her work was included in the Sharjah Biennial 7, United Arab Emirates, curated by Ken Lum (artistic director Jack Persekian) and in the 2nd Yokohama Triennale in Japan, curated by Taro Amano (artistic director Tadashi Kawamata).
This does not mean that VEGAS will be neglecting other disciplines. On the contrary, VEGAS represents the critically acclaimed Dutch artist duo Heringa/Van Kalsbeek and will be show new and recent works elaborating their distinctive abstract approach to sculpture. Their solo at the 2007 Stedelijk Museum CS, Amsterdam was one of the cultural highlights of that year. Other solo institutional credits include Kröller-Müller Museum, Otterlo; GEM, The Hague; Museum of Modern Art, Arnhem and Institut Néerlandais, Paris.
VEGAS will also be showing work by three other artists whose practice explores the intersections between sculpture/installation and other media.
Jemima Brown is a British artist who works in sculpture, drawing and video. At Art Amsterdam, she will present recent works from a series exploring the impact of the economic recession on the 'art kids' of east London's gallery scene. Her institutional credits include Vestfossen Kunstlaboratorium, Norway; Temple Bar Gallery, Dublin; De Bond Museum of Fine Art, Bruges; MAMA, Rotterdam; The Royal Academy London; Pompidou Centre, Paris; Philadelphia Museum of Art, USA and Fries Museum, Leeuwarden. Angie Reed is an American/Italian artist whose quirky installation and video animation works display a wonderful post-feminist conceptual humour. Her solo institutional credits include Museum Villa Stuck, Munich; Contemporary Art Center, Cincinnati and Kunstbank, Berlin. Working in a related area to these two emerging artist is the young British sculptor and photographer Jeanine Woollard whose works have received critical praise at E-Raum, Cologne; Turner Contemporary, Margate; Villa Giulia – CRAA, Verbani; Kyung Hee University Museum, Seoul and for a range of gallery shows. Perhaps unusually for a young British artist – she was also included in the 2008 Bloomberg New Contemporaries- foreign interest in her work is very notable.
During Art Amsterdam, VEGAS will undertake an exciting project in celebration of opening its new site-specific 'Peep Show' project space in Amsterdam. A performance -which will take place in and around the fair- is a special collaboration between VVEGASProjects and the Rotterdam-based performance group Bliss, producing a new performance in reaction to the context of an art fair. The project space itself will open with a solo project by Swiss artist Pascal Rousson.
Dates and opening hours Art Amsterdam :
Wednesday May 26 18-22 hrs (VIP Preview 15:00-1800)
Thursday May 27 11-19 hrs
Friday May 28 11-21 hrs
Saturday May 29 11-19 hrs
Sunday May 30 11-19 hrs
VEGAS PEEP SHOW
VEGAS PEEP Show project space, Amsterdam – (Keizersgracht nr 630) Drink Reception: Thursday 27 May 17:30 – 19:30
Pascal Rousson 28 may-18 July 2010
Vegas Gallery started as a project space sponsored by MINIVEGAS. Over the course of recent years, that London project space has developed into a professional representing gallery. However, 2010 sees MINIVEGAS getting back to the core of why it all started in the first place with: back to 'art for art's sake' and providing platforms for the presentation of contemporary art not directly linked to the commercial aspects of the art world, and reinvigorates its commitment to supporting contemporary visual arts with a series of initiatives facilitated by its own resources and location/s in cooperation with BAKED BEANS.
The first of these is 'PEEP SHOW', commencing in Spring 2010 at Amsterdam's Keizersgracht with the support of business/creative partner BAKED BEANS, a series of projects will take place on the ground level of the building with 24-hour visibility to the passing public. Intentionally referencing Amsterdam's particular reputation and current political debate , the 'PEEP SHOW' projects will play with the expectations of what can be seen through Amsterdam's windows after dark.
During the opening of Art Amsterdam on Wednesday 26 May from 3pm – 9.30pm VEGAS will collaborate with BLISS- a Soft performance group- with a Vegas Style performance: 'Feeling Lucky?' which will take place at Art Amsterdam.
BLISS creates customised performances based on scenery and audience. Playing with female role models, archetypes and girlie fantasies BLISS specially designs a character, costume and set for each performance. This sets a world of BLISS, a parallel utopian world in which you are invited to take part.