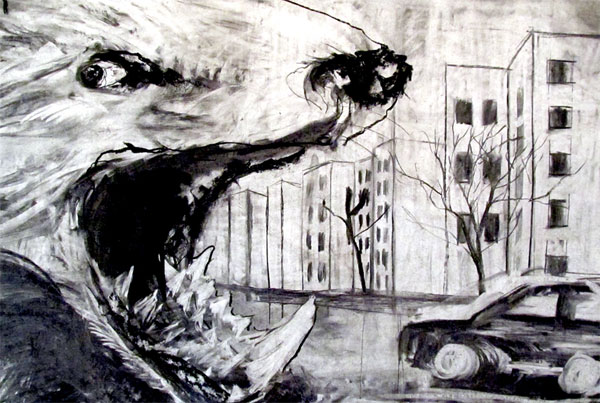 JANE HUGHES (IRL) & TARU KALLIO (FI)
Opening Tuesday 18th of June at 6pm
Exhibition runs 19th of June until 7th of July 2013
VULPICIDE /CITYCIDE is an exploration of wilderness, delusion and delirium in the city environment through drawing and installation. Large scale drawings encircle the spectator, confronted with harsh lines and raw emotions, the vibrations of the cityscape emerge through the immediacy of mark making dispersed between foxes who yearn for the rebellion of nature.
The work for the exhibition has evolved through an organic merging of the two artists practices Jane Hughes and Taru Kallio both concerned with similar tensions between the urban environment and 'nature' or supposed natural environment. The architecture of Berlin and its many urban foxes are the source material for the one- minute charcoal animation Vulpicide(2013), where both artists work simultaneously laboriously drawing frame by frame in a merging of consciousness creating an evolving charcoal thought stream of a surrealist nature.
Jane Hughes (b1984) is an Irish born, visual artist and curator who lives and works in Berlin.
She has a BA in Fine Art at NCAD, Ireland (2006), MA in Environmental Art at Aalto University, Helsinki (2012) which included a year at the MA in Art in Context at Universitat der Kunste, Berlin (2010-2011). Recent exhibitions include NEITHER HERE NOR THERE: Contemporary Irish 2013 in Grimmuseum, Berlin, solo show Imagining Other Worlds at XL Art Space, Helsinki (2012), New Horizons: Landscape and the Contemporary Romantic Kunstraum T27, Berlin, (2012),DAS weekend part of  Transmediale Berlin (2011),
Pain , Kereva Art Museum (2010), Finland and Estranged Relations, Ptarmigan gallery (2009),Helsinki, Made in Berlin, (2009) State Gallery of Kaliningrad, Russia.
Hughes is also a curator at the WerkStadt art project space since 2010. In addition to her curatorial work she founded Art Clinic in 2010, which is an ongoing series of monthly critical feedback sessions for professional artists.
www.janehughes.ie
Taru Kallio,(b. 1986) was born in Pieksämäki, Finland. She currently lives and works in Berlin. She studied at Arts school Maa, Helsinki (2006), Lahti Institute of Fine Arts (2007- 2011) and at Akademia Sztuk Pieknych im. Jana Matejki, Krakow, Poland (2009-2010).
Selected exhibitions: Realities, WerkStadt Kulturverein, Berlin (2012), Nuoret 2011, Taidehalli, Helsinki (2011), diploma exhibition at Lahti Art museum (2011), In einem Fremden Park, Die Fabrik, Frankfurt (2010), Art of Basware, Sanoma House, Helsinki (2010), Paintings, Gallery Uusi Kipinä, Lahti (2008).
www.tarukallio-portfolio.blogspot.de/
This exhibition has been kindly supported by Culture Ireland.
SORBUS GALLERIA
Vaasankatu 15
00500 Helsinki
ht tp: / /sorbusgal ler ia. tumblr.com/
Opening hours
Wed-Sun 1-6pm.