The conceptual artwork for The Clash's London Calling album cover will be on display at the Buy Art Fair.
Buy Art Fair takes place in Manchester city centre from Thursday, October 28 until Sunday, October 31. The event is sponsored by Bluefin Insurance Services in conjunction with AXA Art Insurance, and Jaguar Cars Limited.
See Gallery, from Lancashire, is bringing the original sketchbook of designs by artist Ray Lowry, as well as four never seen before pieces of art taken from the 1979 American tour sketchbook that will be on sale. There will also be three original drawings used to illustrate Johnny Green's (The Clash's road manager) book: A Riot of Our Own as well as original cartoons.

John Dare, director of Buy Art Fair, said: "We are massive fans of both The Clash and Ray's work so this is a massive coup to have See Gallery exhibiting here, bringing along the original London Calling artwork that became such an iconic album cover."
The instantly recognisable London Calling album cover captures a moment in history and the music has inspired millions of people. Ray Lowry was born in Cadishead, Salford, and became a well-respected cartoonist and satirist that contributed to The Guardian, Private Eye and Punch. Ray sadly passed away in 2008 during the middle of an exhibition of his work with See Gallery.
After Ray's death, Julian Williams at See Gallery organised an exhibition featuring artwork inspired by London Calling from artists and creatives including Tracey Emin, Billy Childish, Kevin Cummins, Nick Hornby, Harry Hill, Liam Spencer, Clash members Mick Jones and Paul Simonon – and many more.
This exhibition was such a massive success in both London and Lancashire that it is now being shipped to Tokyo.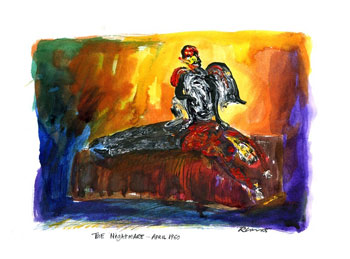 Julian said: "We are delighted to be able to show Ray's work at Buy Art Fair in his home city and to have the opportunity to talk about Ray's life and celebrate the incredible achievements and interest in his art that has taken place in the last two years. Ray would have approved!"
Now in its third year, Buy Art Fair has moved to Spinningfields in Manchester. With 60 galleries from right across the UK featuring 300 artists' work, the fair has become the largest art show in the North of England.
Just some of the other galleries exhibiting include: Eyestorm; Wendy J Levy; Olivia Connelly; Art Republic, Jealous Gallery; Chagan Gallery; Axolotl Gallery and Tom Lewis.
Running alongside Buy Art Fair is The Manchester Contemporary, which will feature, among others, Emin International, who are bringing limited edition prints and merchandise by Tracey Emin.