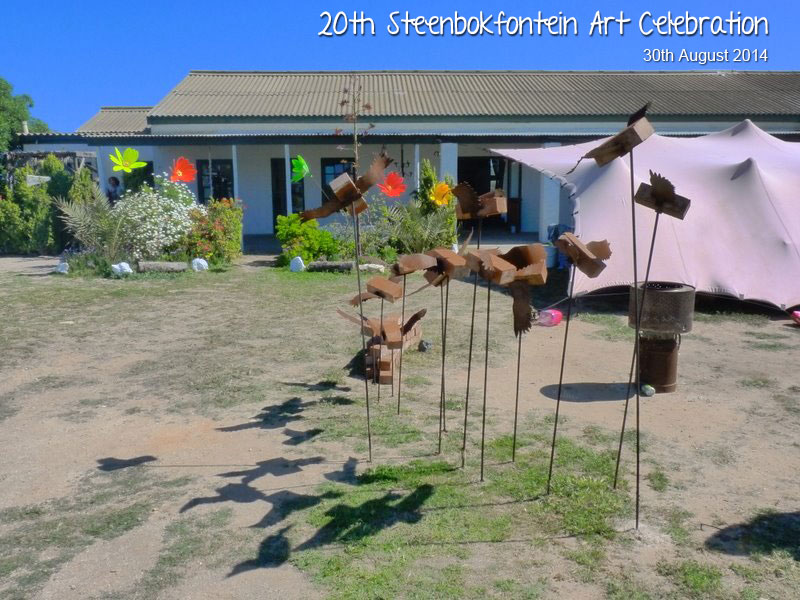 Steenbokfontein Art Celebration 2014 — 20th exhibition. The first exhibition was held Spring 1995 with the idea to make the public and passing tourist aware of the art studio and exhibition on the farm, as well as artists in the area.
This exhibition consisted of 4 artists and was held in the studio – an old horse stable that I've renovated during 1991 The first few years artists also participated in creating big outdoor instalations on the farm ( visible from the main road) with the1st year 1300 huge daisies and following by huge butterflies , 4 meter windsock flying fish and a few more.
With more arists joining the exhibition each year the studio space became to small and a bigger exhibition space was created during 2001 in an old dairy with the number of artist exceeding 50 in the last few years.
With a bigger exhibition space and surrounding area, music was introduced at the exhibition thus becoming an event in the last 10/12 years with 300 plus people attending the opening evening 30th August 2014
This year's event will have a pre-opening performance/collaboration by Anthea Delmotte and the band "Croack" under the title – "Croack and the pythian painter" The official opening of the art exhibition will be at 7:30pm by Sandra Prinsloo At around 9:00 the band "Boomslang Alley" would perform The rest of the event's music would be supplied by the Dj/Vj team " iZan and Galeforce "
The exhibition runs for the week until Sunday 7th September and will be open daily 10:00am till 5:00pm
Well known SA artists have been part of this exhibition over the years ( Joshua Miles – Brahm van Zyl – Jenny Parsons Mary Visser – Paul Andrew to name a few.
Myself – Left corporate life behind Nov 1988 and moved back to the family farm to start practising art as a self taught artist — ceramic sculptures firstly and the last few years working more with mixed media with animal horn and bone as the main ingredient.
Country Life magazine ran and article in the May issue under the title "Bone collectors" page 97 that also may help with photos of my work. I've also entered the event for the "western Cape Tourism awards" in 2001 and was in the top 3 in the "Tourist Attraction" catogory I will attach a few pic – please let me know if you need high res. pics for media purposes and maybe more info
Contact details;
Gerrit Burger
Home 027 4322723
Mobile 083 4392662
E'mail; farmerburger @ worldonline.co.za