"A dark night. Two kids are lost in their creation, paint cans hissing as they spray graffiti furiously on a wall. Suddenly, the sound of footsteps. "Quick! Cops!". They panic. The chase is on; over walls and fences, desperate to escape…"
"Quick! Cops!" is a collection of paintings by Irish artist Tracy Sweeney. For her debut exhibition in Sweden, Sweeney has replicated walls and surfaces from the city of Stockholm and its suburbs- covered with graffiti, flaking paint, stickers and posters.  Some paintings are quiet, others crazy & loud, reflecting the feel of the city and how time, decay and the destruction wrought by people leave their marks on the walls that surround them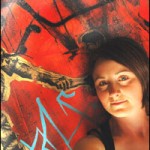 Sweeney is intrigued by politics and celebrity, and uses stenciling and graffiti to introduce current events and icons to her work, with stickers of Barack Obama and posters of Lady Gaga hinting at contemporary happenings. The exhibition title allows the viewer to imagine the scene above and the type of quick thrill and vandalism it describes is evident in Sweeney's work, making it exciting both to paint and to view. For an exhibition inspired by urban Stockholm, from an outsiders point of view, it's a must see!
'Quick! Cops!' was officially opened on Saturday 11th September by Irish Ambassador to Sweden; Donall Hamill. The exhibition takes place in Galleri Ingela S, Klara Östra Kyrkogata 2 A, Stockholm, near Drottninggatan, and will run until the 7th October.
'Det är mörk natt. Två ungdomar har förlorat sig i kreativiteten av sin graffiti. Färgburkarna fräser medans de målar frenetiskt på väggen. Plötsligt hör de fotsteg. De får panik. Jakten börjar, över murar och staket, ett desparat försök att rymma….'
'Quick! Cops!' är en samling målningar av den irländska konstnären Tracy Sweeney. Till sin första svenska utställning har Sweeney återgett väggar och ytor från Stockholms stad och förorter. Täckta med graffiti, flagande värg, klistermärken och affischer är färgerna och markeringarna i målningarna dynamiska och samtida.
Somliga målningar är lugna, andra frenetiska, vilket reflekterar känslan av staden och det sätt som tid, förfall och människors förstörelse lämnar sina spår på väggarna.
Sweeney är också intresserad av politiska händelser och kändisvärlden; hon använder sig av schabloner och graffiti för att få fram en del av samtida debatter och ikoner i sitt arbete. Aktuella händelser skymtar genom klistermärken med Barack Obama eller Lady Gagas affischer. Titeln 'Quick! Cops!' ger betraktaren möjlighet att föreställa sig scenen som beskrivs ovan.
Den här typen av snabb vandalism och spänning är tydlig i Sweeneys arbete, något som gör det spännande att måla och spännande att se.
Tracy Sweeney har en konstexamen från Galway Mayo Institute of Technology i Galway, Irland 2005. Sedan dess har hon ställt ut på Irland, i Storbritannien, Sverige och Kina. Hennes grafiska blad och målningar utgör en del av stora företags- och statssamlingar i både Sverige och Irland. Ett urval av hennes verk har blivit accepterade för svenska Grafik Triennale årgång 2010. Hon har vunnit många priser och är representerad av konstgallerier i Sverige och utomlands.
Quick! Cops! öppnar officiellt lördagen den 11 september kl 13.00 av den Irlands ambassadör i Sverige Donall Hamill. Utställningen visas på Galleri Ingela S, Klara Kyrkogata 2 A,Stockholm, nära Drottninggatan och pågår till 7 oktober.