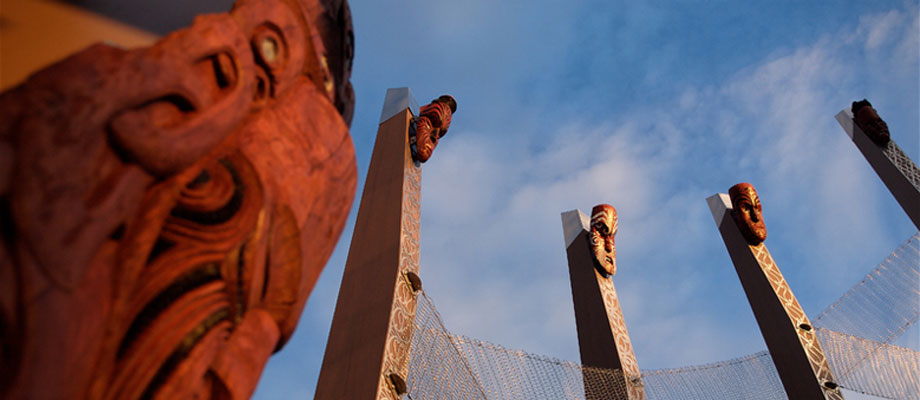 New Zealand's Maori people traditionally retain their links to their tupuna (ancestors) through storytelling – an art form expressed through carving and weaving, as well as spoken word. Stories passed down through generations explain cultural traditions and tribal history.
Te Puia – the Māori Arts & Crafts Institute in Rotorua – was created in 1963 by the New Zealand Government to maintain and preserve Māori art forms, such as weaving, carving and cultural performance.
Since then, the cultural institution's carving and weaving schools have nurtured generations of budding Māori artists, as well as providing a space to showcase and sell authentic Māori art.
At the same time, Te Puia – which sits at the entrance to Te Whakarewarewa geo-thermal valley and overlooking the famed Pohutu geyser – has developed into one of New Zealand's leading Māori cultural tourist attractions.
Te Wananga Whakairo – carving school
In Māori culture, whakairo (carving) was more than just decorative because it provided a written record.
Māori carvers worked with wood, bone and stone using basic carving patterns that were brought to New Zealand from their ancestral homeland of Hawaiki.
Carved objects included taonga (treasures) which often refer to waka huia or small boxes to hold cherished mementos, weapons, tools, musical instruments and meeting houses.
Te Puia's Te Wananga Whakairo or carving school runs three-year courses teaching traditional skills.
The carving school trains star students, and two of its own master carvers – Clive Fugill and James Rickard – were among the first intake of students more than 40 years ago. Rickard is the head of the Te Puia carving school.
In 2009, Te Puia established a third school for artists specialising in working pounamu – the prized jade or greenstone found in New Zealand's southern West Coast region.
Te Rito – weaving school
Mahi raranga – weaving work – formed a fundamental part of the pre-European Māori life and economy.
Kete or flax baskets served for everyday domestic use to carry and gather kai (food) and water. Woven whariki mats covered dirt floors and provided seating.
Traditional weavers best expressed their creativity and talent with korowai or cloaks that symbolise the mana (prestige and social standing) of the wearer.
The arrival of European settlers and the introduction of items like blankets largely replaced the need for mahi raranga, but some items like kete are still in popular use and a number of artists continue to produce fine examples of cloaks for ceremonial use.
Today, students can learn mahi raranga at Te Rito – Te Puia's weaving school.
"I believe weaving can only be learnt the old way, by sitting, by listening, by touching and by doing," says Te Rito head weaver, Edna Pahewa.
As well as learning to weave harakeke (flax) and other materials, students also learn the stories and designs unique to each iwi (tribe) and Māori protocols associated with weaving.
Mark of quality
All taonga or treasure pieces, such as pounamu and bone carvings created by Te Puia's stable of master carvers and weavers, bear an official mark of authenticity.
Te Puia's quality mark is an independent guarantee of quality and authenticity of art work designed and created by the students, staff and tutors at the institution.
Toi Iho
Toi Iho is a registered trademark used to promote and sell authentic, quality Māori arts and crafts. The mark was created by Te Waka Toi, the Māori arts board of Creative New Zealand – in consultation with respected Māori artists.
The Toi Iho mark guarantees that an item is created by a person of Māori descent and is an assurance of quality. It was designed to authenticate exhibitions and performances of Māori arts by Māori artists.