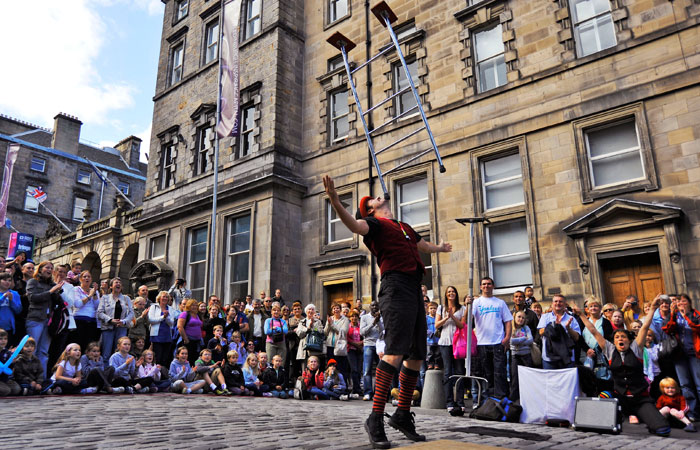 The Minister for Arts, Heritage and the Gaeltacht, Heather Humphreys TD, is today attending the Edinburgh Festival Fringe to support and promote Irish artists performing at the event. Culture Ireland is supporting over 80 performances by Irish artists at the prestigious event this year.
Edinburgh Festival Fringe
The Edinburgh Festival Fringe is the largest arts festival in the world and takes place every August for three weeks in Scotland's capital city. It presents a unique opportunity for Irish artists to build on their international profile, to gain international recognition and to generate potential touring opportunities for their work. Irish artists participating in Edinburgh Festival are supported by Culture Ireland, a Division of the Department of Arts, Heritage and the Gaeltacht, which is responsible for the promotion of Irish arts worldwide.
Speaking today Minister Humphreys said: 'I am delighted to travel to Edinburgh to offer my support and encouragement to Irish artists showcasing their work at this important festival. The Edinburgh Festivals offer a unique and vital opportunity for Irish artists to gain international recognition for their work. This year, Culture Ireland is supporting over 80 performances and readings by Irish artists at the Edinburgh Festival Fringe and the Edinburgh International Book Festival. I wish every success to the artists involved and I hope that this leads to many more international opportunities for them'.
Minister Humphreys congratulated Olwyn Fouéré who has won the Stage Award for Acting Excellence for her role in the Emergency Room and Galway Arts Festival's extraordinary tour de force performance piece riverrun, showcasing at the Traverse for the duration of the Festival Fringe. The Programme this year also includes the multi-award willing production of Lippy by Bush Moukarzel and Mark O'Halloran; the funny and moving dance theatre piece Swing from Edinburgh stalwarts and Fringe First winners Fishamble; and CoisCéim's powerful dance poem on loss, Missing.