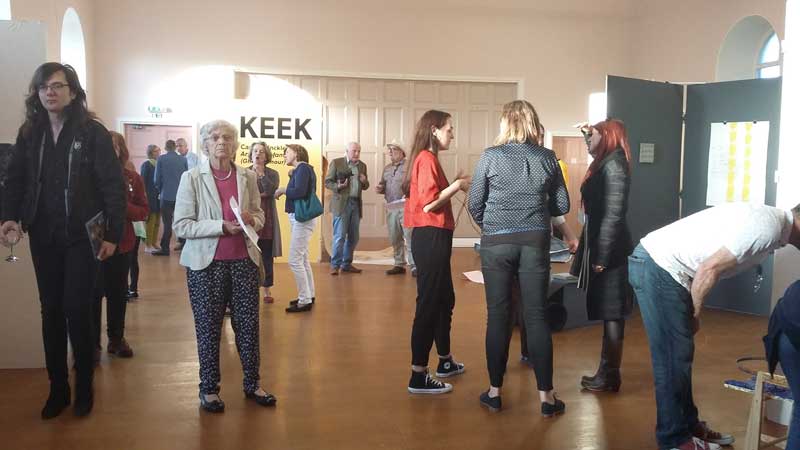 Nairn, Scotland: September 2018 – This is the fifth year of the New Highland Contemporary Exhibition, which highlights work from selected third year Fine Art degree students from the Moray School of Art at the University of the Highlands and Islands each year. The exhibition runs from  Saturday 1 – Saturday 8 September 2018 at The Seaman's Victoria Hall.
New Highland Contemporary 5 – The Seamen's Victoria Hall
The exhibition offers an eclectic combination of contemporary art as part of the annual Book and Art Festival in Nairn and features a fantastic range of work from sculpture to film, painting and textiles. Curated by Kirsten Body, this year's selected students and works are:
Rachel McClure – Newmill and Yellow Line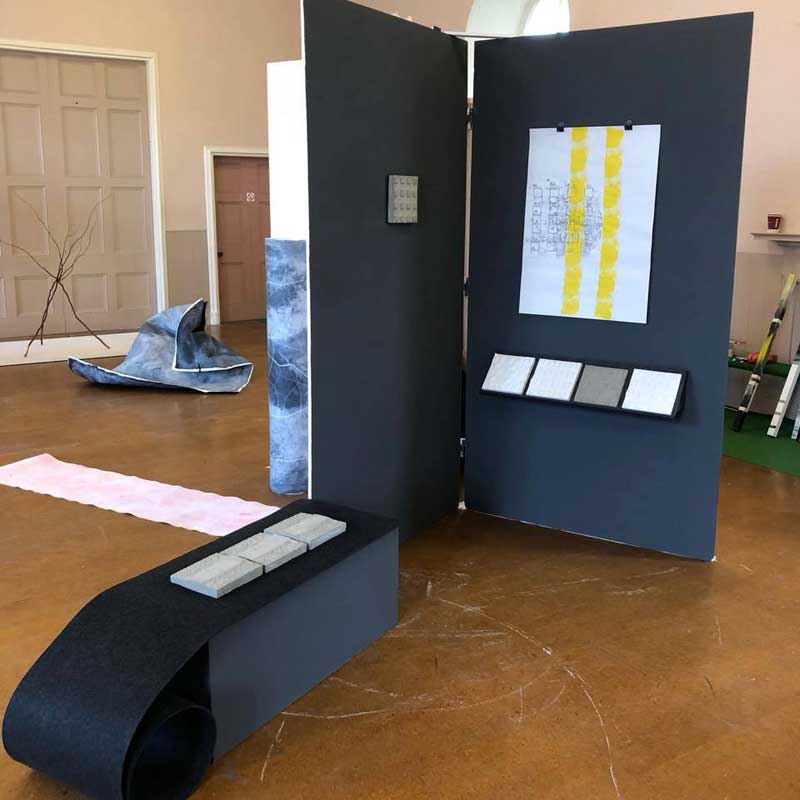 Casting and printmaking investigates the psychogeography of Rachel's home town, Elgin. Exploring familiar routes and places. Considering the seen and unseen elements to create new maps, pathways and ways of seeing, and experiencing, her environment. Repetition and uniqueness of journeys is reflected in the process of creating monoprints and casts.
Kim Welch – Sensing Sounds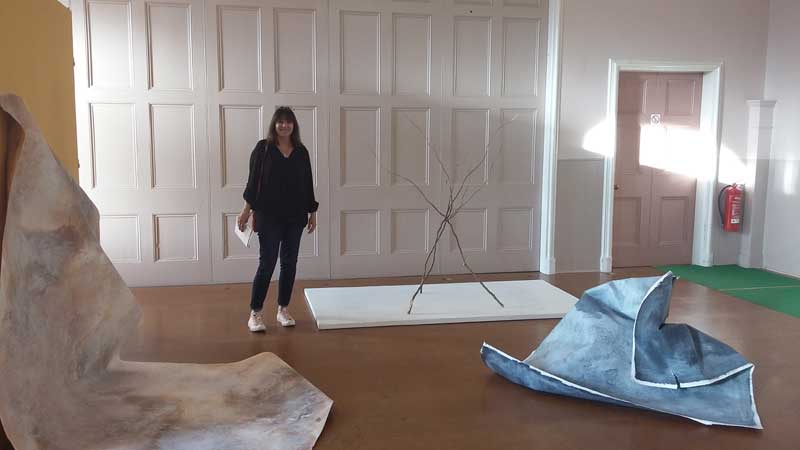 Investigating materials and process, these sculptural paper pieces simultaneously reflect fragility and strength. Exploring size and scale within a set environment, this work engages the viewer in a sensory experience. Four tones that hold unique healing properties have been visually presented.
White Noise –masks other noises, improves attention and focus.
Pink Noise – assists restful sleep, imitates falling rain or wind.
Brown Noise- assists with relaxation, sleep and concentration, has a deeper tone, like a heavy waterfall.
Grey Noise –contains all frequencies with equal energy, can be calming and relaxing.
Madelaine Daly – Ambiguous Landscape and Something and Nothing
The exploration of fragments of information imprinted within our memory of place and space. These works hover along the invisible line between the world of representation and abstraction, a balancing of memory and imagination creating a tension in the work, hinting at something and nothing.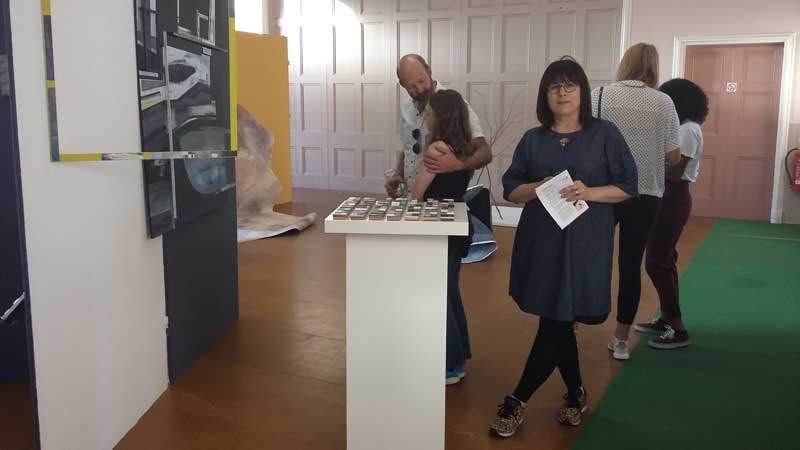 Shaun Pearson – Dobbin, Rainbow Blanket, Baby Basket Raindrop and Untitled
His works are an intuitive exploration, a search for comfort through everyday domestic items that collide with a wide variety of imagery into slightly absurd and fantastical collages.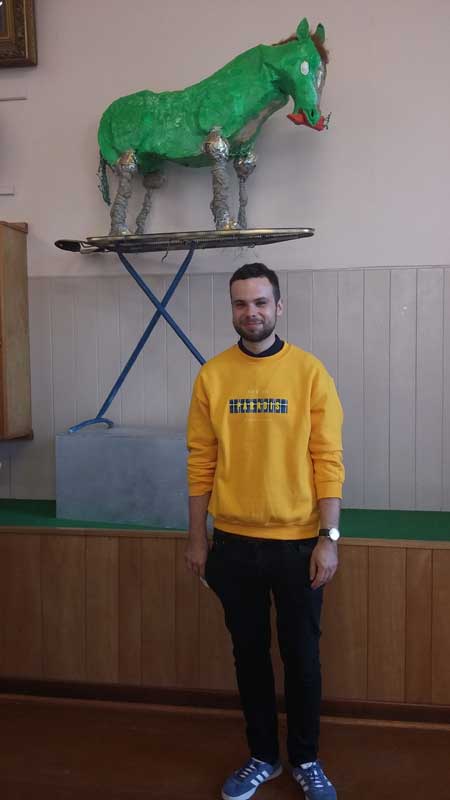 Ines Dias Lopes –Glitched
This short film looks at childhood memories, current identity, the rise of technology and the nostalgia that comes with that. A main question the artist hopes to highlight is if our memories help build our identity, and if we fail to accurately recall these, how can we be sure of who we are?
Callum Hay – Lightbox Crank and Clockcat
The artist utilises man-made or natural light sources and industrial based commercial products, always layered with digital images created within the world of contemporary technology. These images become a fabric or skin with an underlying symbiotic physicality of their own which manifests in two or three dimensional art pieces.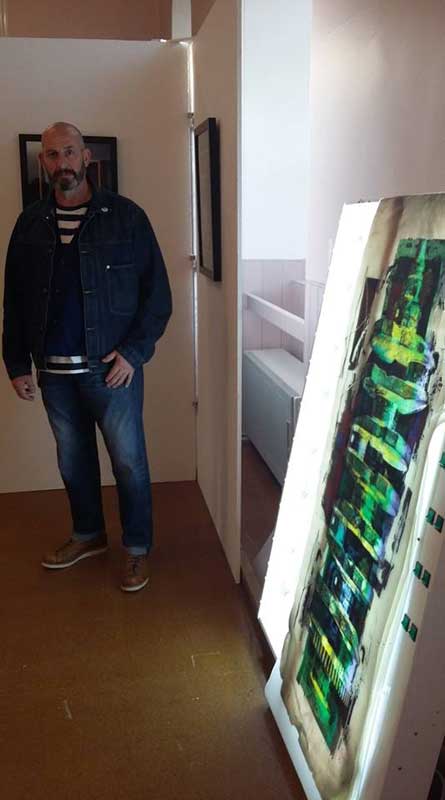 Krisztina Horvath – Kairoclerosis
Her seemingly simple compositions with large areas of block colour intend to produce a contemplative response in the viewer.
Sadie Stoddart – Naturalised Not Native.
The artist uses weeds as a metaphor to describe the movement of people, commenting on current discussion around immigration, emigration and the refugee struggle. Monoprints on newsprint, text plastercasts and spray paint are all used. The relationship between mediums is an important feature, reinforcing the idea of quick throwaway news and how easily the humanity of these issues is removed.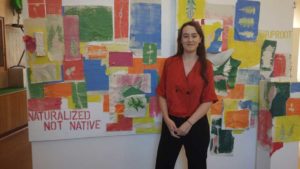 The opening night was well attended and the Ash prize was awarded to Rachel McClure for her work, Newmill and Yellow Line, which was presented by Jessica Wolf, chair of the Art Society Highland.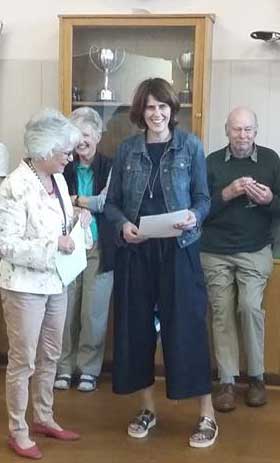 The exhibition runs until Saturday 8 September and is open daily from 10.30am to 4.30pm
Location: The Seamen's Victoria Hall, Harbour Road, Nairn